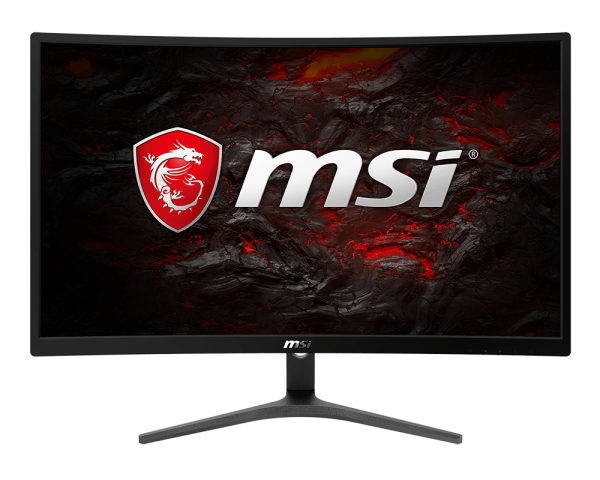 23.6″ LCD panel LED Backlight (1920 x 1080 Full HD)
1ms Response Time – No more blurry images
1800R curve panel design – Most suitable for human eye.
True Color – NTSC 85%, sRGB 110%.
Wide View Angle – 178° Visible.
Optimized with MSI Gaming VGA – Giving you best visual experience
AMD FreeSync – keep screen tearing away from your monitor.
Samsung curved panel
Optix G241VC uses the high quality Samsung curved panel with many special features for gamers, which will help them enjoy the marvelous game world.
1800R Curve Rate
Compared to 4000R or 3000R curvature rate, 1800R is the most comfortable curvature rate for human eyes.
Wide Gamut Coverage
True color
Compared to regular monitors, Optix G241VC has at least 20% more color gamut coverage, providing much more details in images.
Without after image
General monitor
75Hz refresh rate
True color
The Less Blue Light design, which decreases the damaging blue light coming from the screen, will protect your eye from the damage of long-hour gaming and working.
General LCD
Optix G241VC Less Blue Light
178° Wide Viewing Angle
178˚ wide viewing angle allows you to share your exciting gaming experiences with friends around you, creating both fun and vivid memories.
178°
Viewing Angle
3000:1
Contrast
FPS front Sight
It is hard to aim at targets when the crosshair in game is too small or non-existent. With FPS Crosshair, you can aim at targets much easier in games. Try using it to secure your next victory.
SMOOTHEST GAMING EXPERIENCE WITH AMD FREESYNC
AMD FreeSync technology, which has been incorporated to the monitor, syncs your monitor's refresh rate to your AMD GPU's FPS to prevent screen tearing. With tearing-free visuals, you can finally enjoy the perfect game arts that industry giants design for you.
*Note: AMD FreeSync Sync requires a compatible AMD® GPU to be enabled. For more information:
http://www.amd.com/en-us/innovations/software-technologies/technologies-gaming/freesync
Optix G241VC
Display size
24″ LCD panel LED Backlight
Brightness (Typical)
250cd / m2
Contrast (Typical)
3000 : 1
Pixel Pitch (H x V)
0.27156 x 0.27156
Resolution (H x V)
1920 x 1080
Aspect Ratio
16 : 9
Response Time (Typical)
1ms
(Resolution H x V / Fv)
1920 x 1080 / 75 Hz
MSI monitors support the HDMI port. Feel free to use the HDMI port to enjoy the high definition world.
All images and descriptions are for illustrative purposes only. Product specification, function, and appearance may vary based on different GPU. For detailed specifications, please consult the product specifications page.